Defeat dog meat
Millions of dogs and cats are slaughtered every year in the ruthless dog meat trade. Many are pets stolen from their devastated families, still wearing collars around their necks. Many more are strays shot with poison darts and grabbed from the streets by criminal gangs. The dogs are crammed into cages on transport trucks and shipped — sometimes for days with no food or water — to meat markets, restaurants and slaughterhouses.
Slaughter is a brutal process in which the dogs may be hung, electrocuted or clubbed — right in front of their terrified cagemates.
Lady Freethinker is dedicated to ending the cruel dog and cat meat trade worldwide with petitions, billboards, investigations and direct aid to rescuers on the ground saving animals from slaughter.
Watch Lady Freethinker's Investigation of A Korean Dog Meat Farm
Dogs slaughtered across Asia
Cats slaughtered across Asia
THE YULIN DOG MEAT FESTIVAL
Thousands of dogs die at China's Yulin Dog Meat Festival each year on the summer solstice — just to fatten the pocketbooks of the brutal dog meat industry, which started this gruesome event to make more money. Thanks to activist outcry, fewer and fewer dogs and cats are being sold at the festival each year. We must keep speaking out to shut the Yulin Dog Meat Festival down forever.
The Cat Meat Trade
It's not just dogs who suffer in this industry, but cats, too. Numbers are harder to come by, but an estimated 10 million cats — 4 million in China alone — are stolen from families or abducted on the streets to be killed for meat each year.
Lady Freethinker is dedicated to helping end the cruel dog and cat meat trade, in which beloved family pets are stolen, tortured and slaughtered for food.
LFT articles expose this issue to millions of readers, and we've garnered hundreds of thousands of petition signatures to stop dog and cat meat.
We are also providing food, medical care and more to shelters that rescue dogs and cats from slaughter in China and S. Korea. We've supported the rescue of dozens of dogs from the Yulin Dog Meat festival, and continue to enable shelter and veterinary care for dogs saved from the killing floor.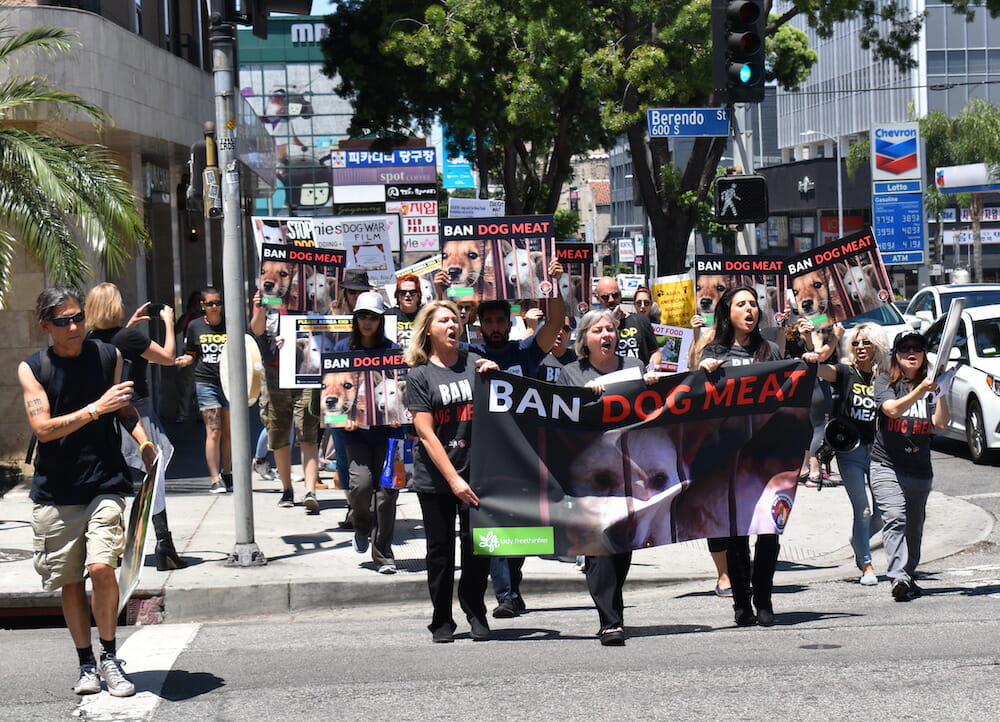 SIGN PETITIONS TO HELP DEFEAT DOG MEAT
We Have the Power to Defeat Dog Meat, and We're Doing Something About It
Investigation
In a groundbreaking investigation, LFT teamed up with Save Korean Dogs to capture the first known footage of a cruel dog meat farm run by South Korea's Dog Farmers Association in Gimpo, an area known as the "Valley of Dog Meat."
LFT's shocking footage made headlines in publications including the Daily Mail and Salon, raising much-needed awareness of the horrors of the dog-meat trade.
LFT revealed row after row of filthy, rusted metal cages holding up to 1,000 dogs doomed for slaughter.  The conditions were deplorable — a literal hell on earth for the captive dogs.
The farm was fully legal, but operating behind closed doors. The "dog meat mafia" didn't want us there. While documenting this farm of horrors, LFT's investigator was physically accosted.