Following release of undercover footage showing horrific conditions at five zoos in the Philippines, Lady Freethinker has received confirmation that our documentation has been filed with the Philippines' Presidential Complaint Center, that the Bureau of Animal Industry is conducting an ongoing investigation, and that the governors of Bohol and Cavite have endorsed local authorities to investigate and take appropriate enforcement action.
We thank the more than 43,803 people who have signed our petition outlining these findings and urging authorities to thoroughly investigate conditions at these zoos, end tourist photo opportunities and "selfies" with big cats and other live animals, and demand immediate and critical improvements  — or relocations to reputable sanctuaries — of these suffering animals.
LFT's undercover investigation, released in late 2021, revealed sick and starving animals at five popular Philippines zoos: Lyger Sanctuary in Pililla, Rizal; Avilon Zoo in Rodriguez, Rizal;  Zoocolate Thrills in Loboc, Bohol; Zoori at Residence Inn in Tagaytay, Cavite;  and Zoobic Safari in Subic Bay Freeport Zone.
The photos and videos revealed malnourished big cats living in filthy and inadequate enclosures and animals of several other species — including macaques, civets, a sun bear, and orangutans — demonstrating symptoms of zoochosis, or extreme psychological distress.
We've since sent the petition and our investigative reports to the Philippines' president, the mayors and governors overseeing the jurisdictions in which the five zoos are located, and the agencies with authority to demand improvements or take enforcement action.
The Bureau of Animal Industry (BAI) — which has authority under Philippines' law to call upon the government for assistance in supervising and regulating commercial animal facilities — on Jan. 7 sent a letter to the chairman of the Department of Agriculture's Committee on Animal Welfare, asking for a meeting to discuss LFT's concerns about the documented conditions. 
In a follow-up correspondence on Feb. 4, the BAI, via Director and Officer-in-Charge Rieldrin Morales, informed us that the meeting had led to an ongoing investigation into the facilities and that the agency also had asked the Philippine Zoos and Aquariums Association to "remind their members to comply with our local animal welfare regulations and policies."
The Feb. 4 letter reported the COVID-19 pandemic had made inspections challenging but that the department would continue to investigate the conditions.
 "The pandemic indeed took a toll on everybody, even the owners of the abovementioned zoos," Morales wrote.  "However, that is not reason enough to not be able to provide what these animals need."
Gov. Juanito Victor C. Remulla, the governor of Cavite, forwarded LFT's investigative reports and documentation to Tagaytay Mayor Agnes D. Tolentino — who oversees the jurisdiction in which Zoori at Residence Inn is located — with an endorsement to take any appropriate  action. 
Gov. Arthur Yap, the governor of Bohol, where Zoocolate Thrills is located, has referred LFT's investigative documentation to Provincial Veterinarian Dr. Stella Marie D. Lapiz and asked for "information, comments, recommendations, and/or any appropriate action."
The Malacanang Records Office also has confirmed, via email, that LFT's investigative materials have successfully been forwarded to the Presidential Complaint Center for appropriate action.
We reached out to the five zoos again, repeatedly and through various outreach means including email and Facebook, but have not had any substantial responses to date. 
We also have not had any additional responses to date from the Philippine Zoos and Aquariums Association (PHILZOOS) or the Southeast Asia Zoos and Aquariums Association (SEAZA), although  we heard previously from Noel Rafael – who serves as executive secretary of SEAZA's Membership and Information Office, executive secretary of PHILZOOS, and curator and conservation program director at Avilon Zoo  – that similar conditions had been reported in the past.
"This is not the first time we've received reports of such nature involving zoos," Rafael said via email in 2021. "Rest assured that those cases are being monitored, with most in the process of being properly addressed (albeit gradually) by the involved institutions and with the aid of PHILZOOS."
The situation for these animals –  some of whom have died –  is clearly beyond a grace period or a reminder to zoos to comply. These innocent, captive wild animals have no more time to wait.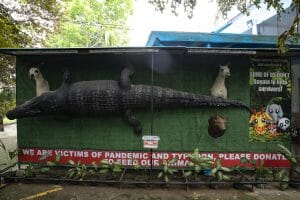 We are grateful that Filipino authorities are taking our concerns seriously and following up with compassionate action by actively investigating the current conditions. We also are grateful for their acknowledgment that the challenges caused by the COVID-19 pandemic are not a "free pass" to violate the Philippines Animal Welfare Act.
We will continue to follow up with authorities to advocate for these animals and emphasize that Philippines' law requires licensed facilities to be able to properly care for their animals – or, if they cannot, to make other ethical arrangements for them.
With authorities showing they are receptive and responsive to our documented concerns, it's more important than ever that people respectfully speak up for these animals.
If you haven't yet, please sign our petition calling to end the suffering:
SIGN: Justice for Sick and Starving Animals Exploited for 'Selfies' at Horrific Philippines Zoos