LFT Investigates
Tigers Suffer as Selfie Props at Philippines Zoos
An undercover investigation from Lady Freethinker revealed sick and starving animals at five popular Philippines zoos.
Malnourished big cats lived in filthy and inadequate enclosures and animals of several other species — including macaques, civets, a sun bear, and orangutans — demonstrated symptoms of zoochosis, or extreme psychological distress.
Sign our petition urging animal welfare regulators in the Philippines to thoroughly investigate conditions at these zoos, end tourist photo opportunities and "selfies" with big cats and other live animals, and demand immediate and critical improvements  — or relocations to reputable sanctuaries — of these suffering animals.
Undercover photos and videos from Avilon Zoo showed a pacing sunbear, nonresponsive orangutan, and reptile residents in filthy water.
Human visitors also are allowed to interact with the wildlife, including feeding giraffes carrots through the bars of their enclosures by using rods, and allowing photo — or 'selfie' — opportunities with birds. The birds are forced to perch on people's bodies.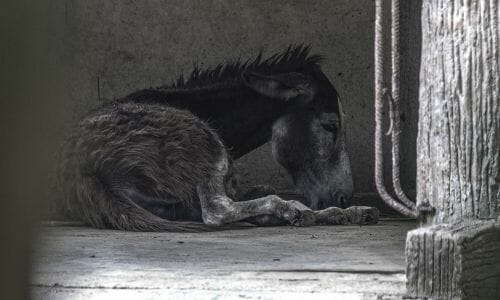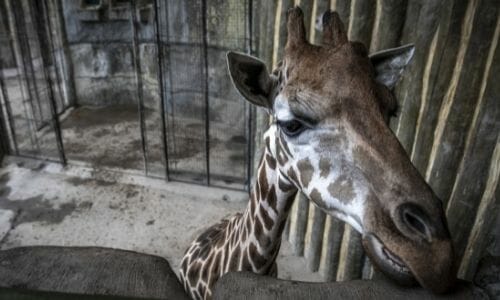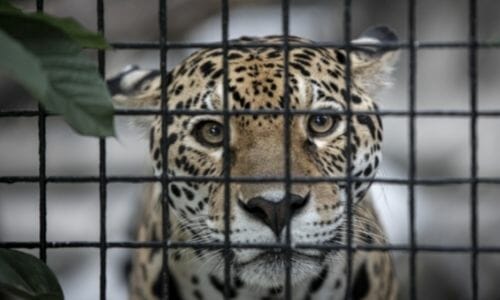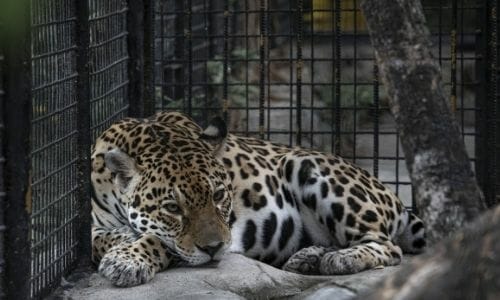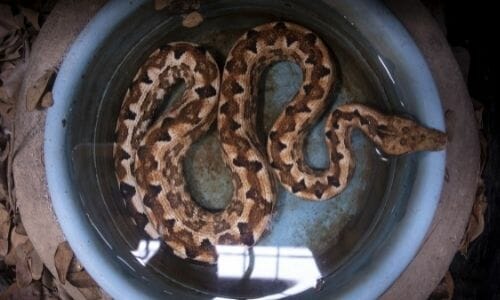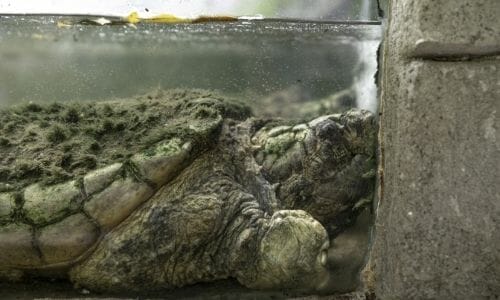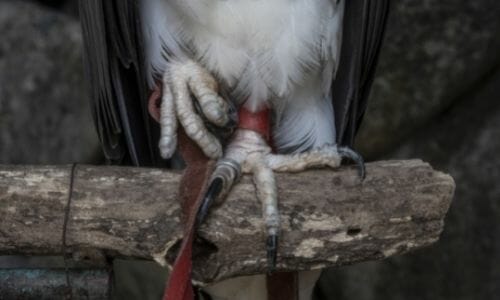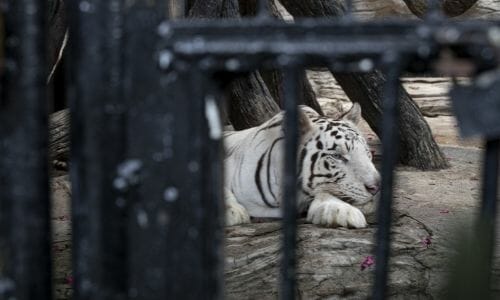 The undercover investigation revealed malnourished big cats living chained in filthy, inadequate enclosures and used as photo props at the Lyger Sanctuary in Pililla.
Tourists also could directly interact with some of the other resident animals, including feeding an orangutan mother and baby, who were observed in a small, tight enclosure.
The documentation also showed several animals who appeared to have deformities or illness, and several starving macaques living in small cages.
Several deceased animals were stuffed and mounted on a board soliciting donations that declared they were the victims of COVID-19 and a typhoon.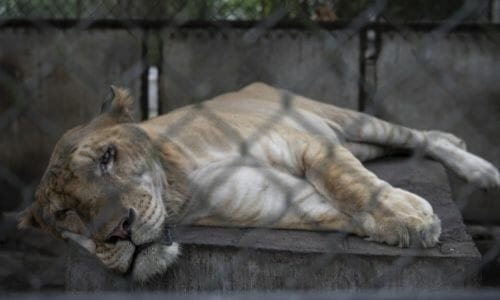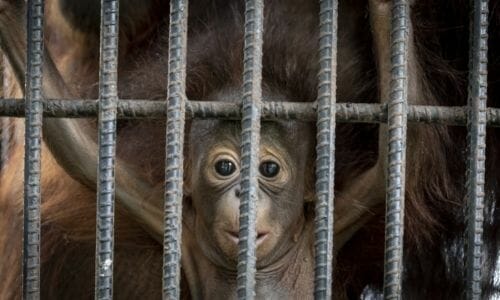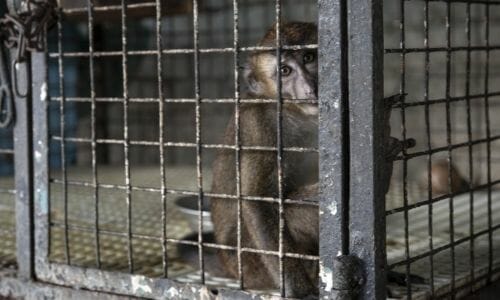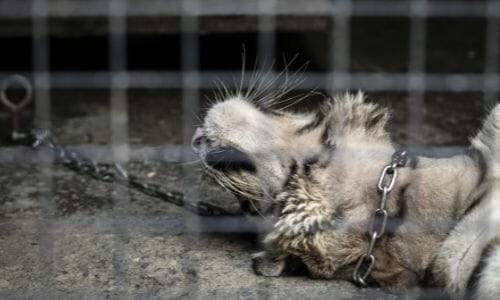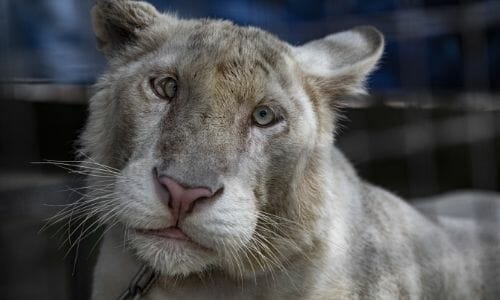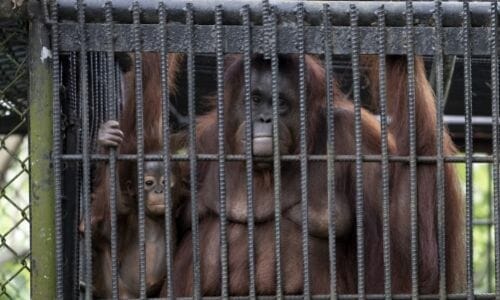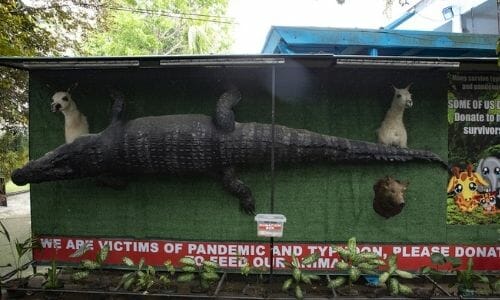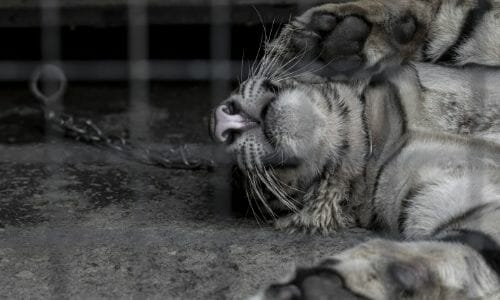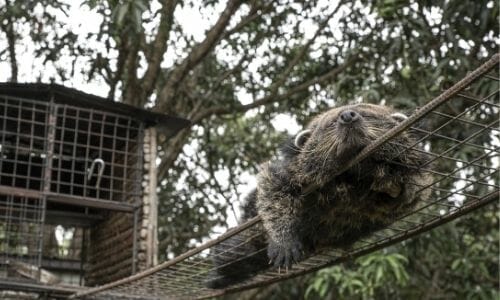 Our investigation revealed several malnourished, chained big cats pacing in circles inside inadequate enclosures and chained tigers forced to act as "selfie" props at Zoobic Safari in Bataan.
Other animals, including civets, also were documented showing behaviors that could indicate zoochosis.
The zoo allows several interactions between humans and visitors, including feeding crocodiles and a safari option in which tigers jump on a Safari van full of visitors, who can feed them through the windows.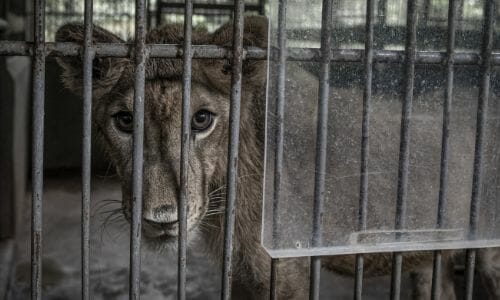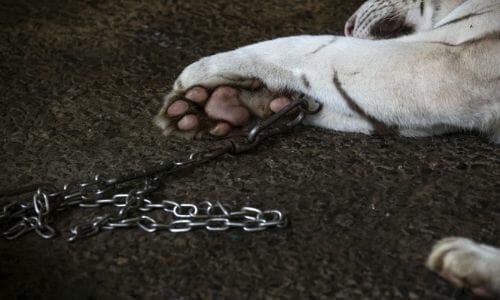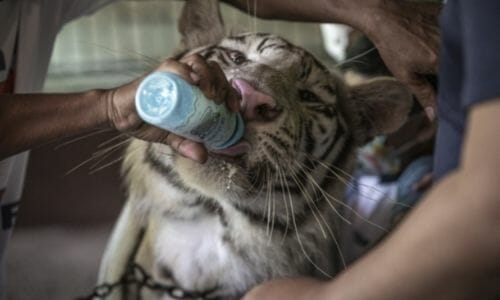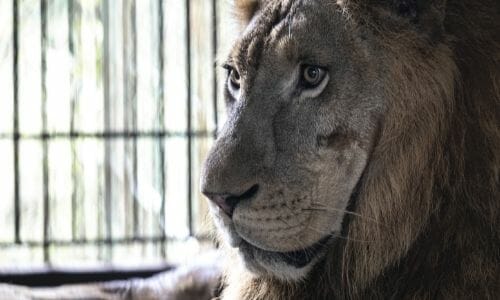 Undercover videos showed a malnourished, young tiger attempting to eat a loose nail in his small and inadequate enclosure, civets and other animals imprisoned in filthy and rusty cages without access to clean food and water, and forced photo opportunities with a snake and captive tigers at Zoocolate Thrills in Bohol.
Our investigator also noted an extremely thin binturong pacing in his cage – behavior that animal experts typically associate with severe stress. This nocturnal animal did not seem to be provided with nearly enough shade or space to shelter from the sun.
Zoocolate Thrills also offers photo opportunities with their snake Zooco, who at the time of our investigator's visit was kept in a filthy and barren cage.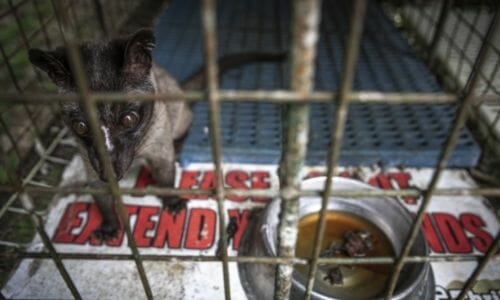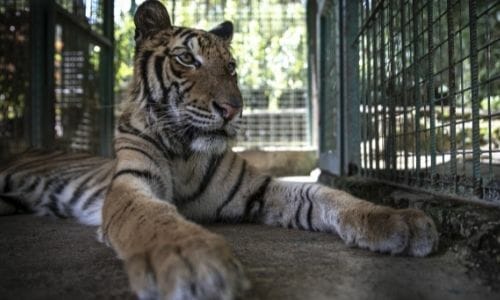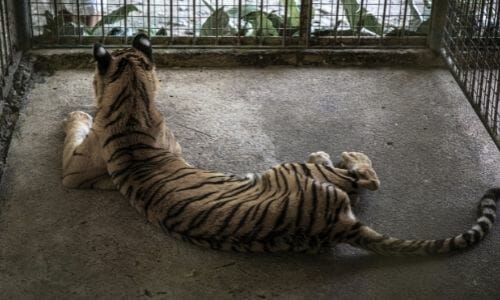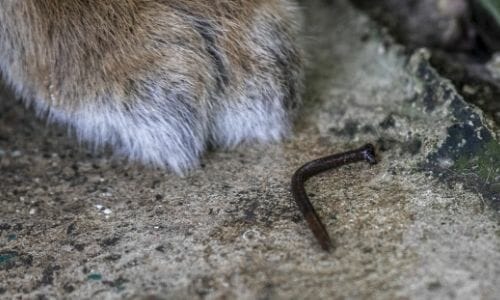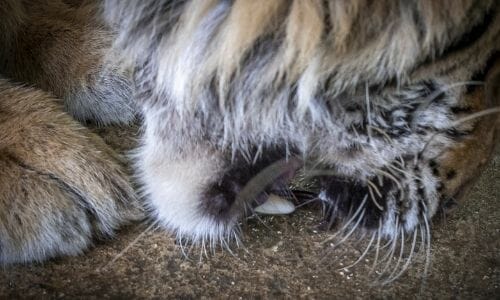 Our investigation showed a chained tiger and other animals pacing inside barren cells, two extremely thin lions kept in a filthy enclosure with a small amount of slimy green water within their pond, and advertised animal performance shows at Zoori Residence Inn in Tagaytay.
Our investigator also noted a very thin binturong documented pacing manically back and forth.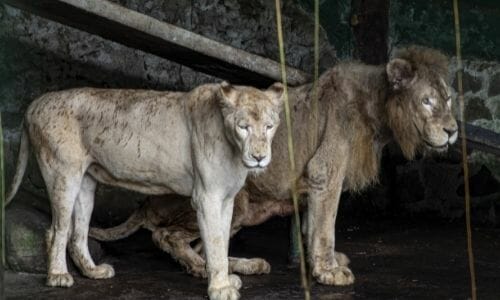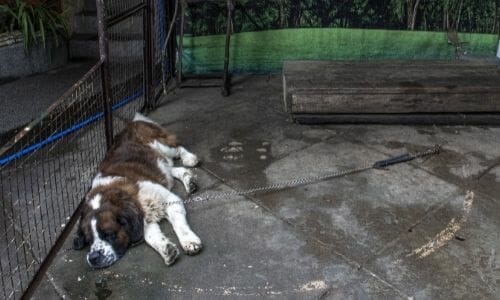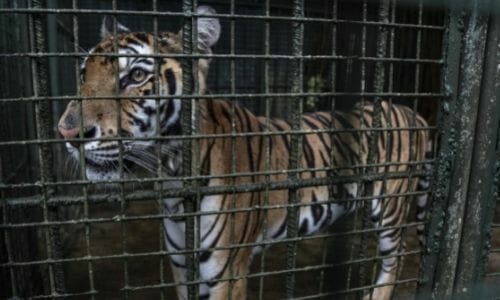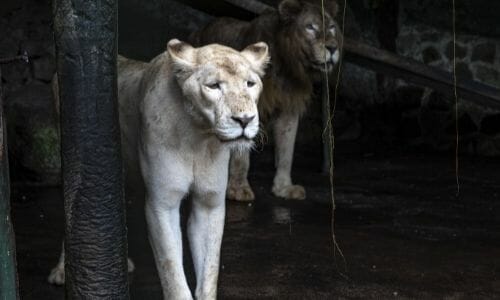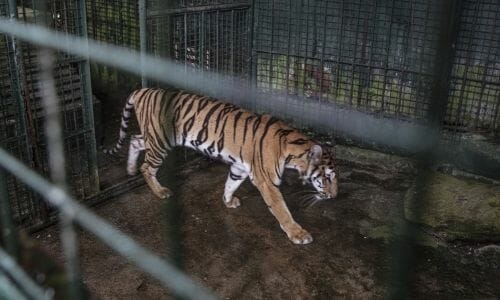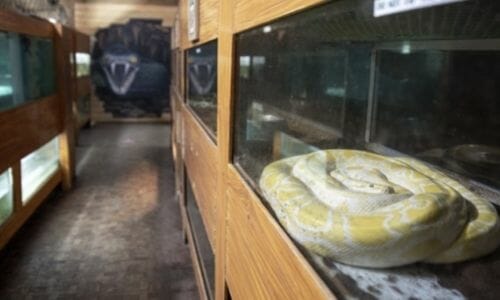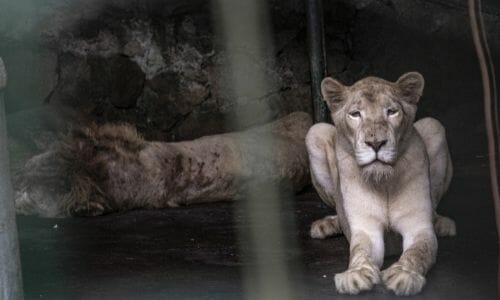 Cruel Animal 'Selfies' at Zoos
All of the zoos covered by the LFT undercover investigation offered promoted, paid photo opportunities with animals.
Zoobic's website shows that up to six tourists can pose at one time with a chained tiger for between 240 and 540 Philippine Pesos (the equivalent of about $5 to $10 USD) — an "opportunity" that includes hands-on contact and feeding the big cat white fluid in a baby bottle, as evidenced in the photo documentation.
At Zoori, up to four tourists can crowd around a chained tiger for between 240 and 360 Philippine Pesos (the equivalent of about $5 to $7 USD), according to the zoo's website.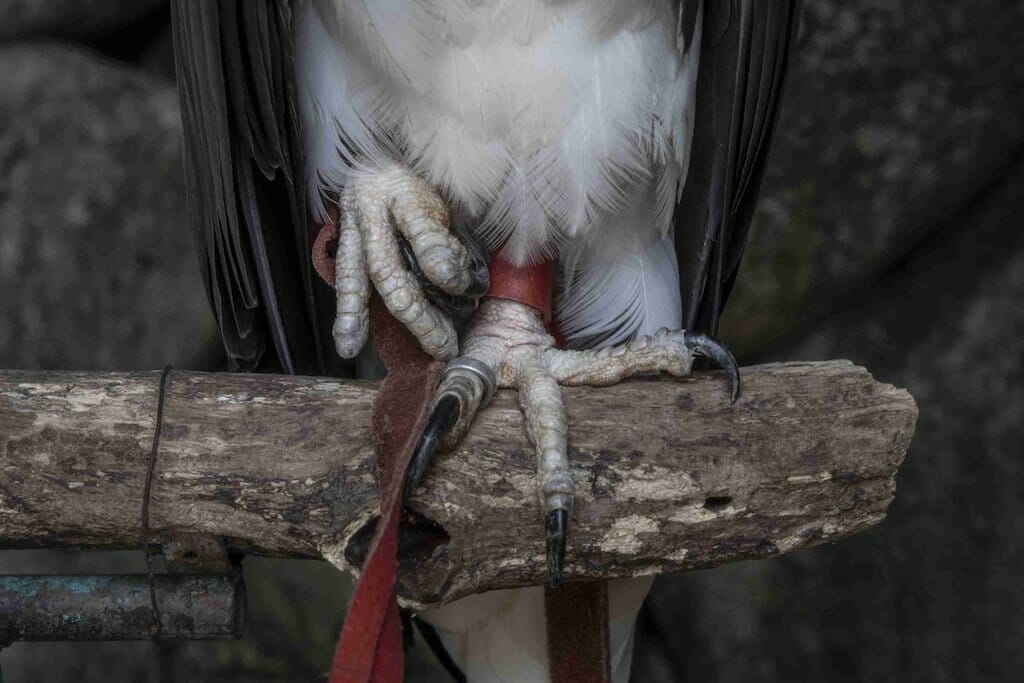 Zoocolate allows photo opps with unspecified "live animals" for as little as 20 Philippine pesos — the equivalent of $0.40 USD. Multiple visitors are pictured holding up Zooco, billed by the venue as the Philippines' largest Burmese python.
Lyger Sanctuary's social media posts showed visitors posing within the enclosure of a chained big cat, although prices were not listed online.
Avilon Zoo allows visitors to pose with resident birds perched on their shoulders. Prices also weren't listed online.
Bekoff — who viewed one photograph of a lioness near a pool coated in green slime at Zoori at Residence Inn, and one video of a chained white tiger, pacing in tight circles inside an enclosure at Zoobic Safari — described the conditions as "utterly horrific" and alleged they constituted "clear and obvious animal abuse."
On viewing an undercover video of one of the chained tigers at Zoobic Safari: "Many things are very concerning about the animal's behaviour in this video: that the tiger is constrained with a chain, the animal's stereotypic pacing (always a sign of poor welfare), and the uneven gait that indicates a medical condition."
"Zoos such as these need to be shut down. From looking at the videos and images, I see no way they can improve the way they keep the animals or the activities they encourage."
"Some of the big cats appear to be undernourished; I can see protruding hip bones on some of them, like the lioness next to water at Zoori Residence Inn or the lions in the dirty enclosure where, by the way, the male looks terrible."
"Hand feeding an adult tiger milk is not appropriate or healthy, but even worse is having the tiger pose with people for a picture — especially kids! The closeness of both species should not happen. Encouraging such interactions with children can make kids lose awareness of the fact that these animals are wild."
"Exotic pet ownership is probably a desire that is born from having such interactions since they grow up thinking that it is okay to hold these animals prisoners."
it's time to end animal 'selfies'
Wild animal "selfies" are harmful and cruel, and LFT urges all zoos, tourist attractions and other venues in the Philippines and across the globe to cease this abusive, outdated practice. 
Help Us Save Animals' Lives
Your donation will provide
lifesaving support for animals in need
and help expose cruelty around the world.
We can't do it without you.
Thank you for your continued support!