A loveable rescue dog named Luke has finally found a loving forever home after more than 200 days of boarding at a shelter in England and getting stood up at his Valentine's Day Party.
Luke arrived at the Battersea Brands Hatch Shelter as a stray, with nothing known about where he came from or what he'd been through. 
Although a big sweetheart who warmed to people, Luke remained "a little insecure" around other dogs, and that quirk led to a stay at the shelter more than five times longer than average, rescue staff said.
To help Luke find his forever home, staff planned a Valentine's Day-themed adoption event. But no one came, to the consternation and disappointment of rescue staff.
"Despite being a large dog, Luke is really just a big softie and enjoys nothing more than to cuddle up by a radiator with his favourite people and a cuddly toy," said Michelle Bevan, a center manager, in a press release after the event. "We're really hoping that someone will love him for the big lapdog that he truly is and give him the chance to be loved as he deserves."
The press release, which also declared Luke as being "unlucky in love," resulted in mountains of toys, love notes, donations and interest.
When Karl and Jill Kendrick of Derbyshire added their application to the lot, Battersea knew they had found the perfect match.
A week after Luke went home with the Kendricks, the rescue reported he'd already settled in and even has his own duvet.
"Since we've brought him home, he's shown himself to be the perfect dog and has really settled in so quickly," Karl Kendrick told People. "We already love him so much and wouldn't change him for the world."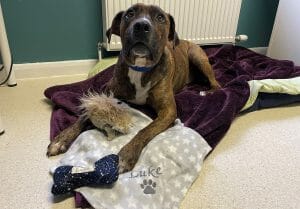 He added that how the amiable Luke could have stayed at the shelter for so long is "a mystery to me."
"We feel so lucky to be the family who gives Luke his forever home, and he has really made our family unit complete," he said. "He'll never spend Valentine's Day alone again."
Bevan said the happy ending highlights the importance of considering rescue dogs when searching for canine companions.
"We're so pleased that so many people support rescue dogs like Luke, and that he's finally found the loving home he deserves," Bevan said in a press release.
We are so happy that Luke has found the joyful and loving home he deserves! His story is a clear reminder of why it's so important to adopt, rather than shop for, companion animals so that they can experience the love they deserve.