35598 Signatures Collected
PETITION CLOSED
PETITION TARGET: Facebook
UPDATE (5/16/2022): Lady Freethinker sent our petition, signed by more than 33,900 people, to Facebook. We'll continue to do all we can to highlight — and stop — animal abuse and cruelty on social media. Thank you to everyone who helped speak out for these innocent animals. — Lady Freethinker Staff
*
A shocking investigative report by Lady Freethinker reveals that on Facebook, dogfighters are promoting their gruesome trade with alarming frequency.
Posts show dogs mauling each other, chained up in factory-like training facilities, or displaying the telltale scars and open wounds of fighting; they include coded language like Gr Ch (grand champion), 2xW (2 wins), and even "RIP."
Unscrupulous breeders use Facebook to sell helpless puppies bred from fighting "champions," shipping the dogs worldwide to face torture and death.
LFT's undercover investigator found:
More than 2,000 posts promoting dogfighting or trafficking animals used for fighting
150+ pages, groups and profiles actively promoting or engaged in the sale of animals for fighting
160,563 members/followers of the top five groups and pages alone
Click to Read the Full LFT Investigation Report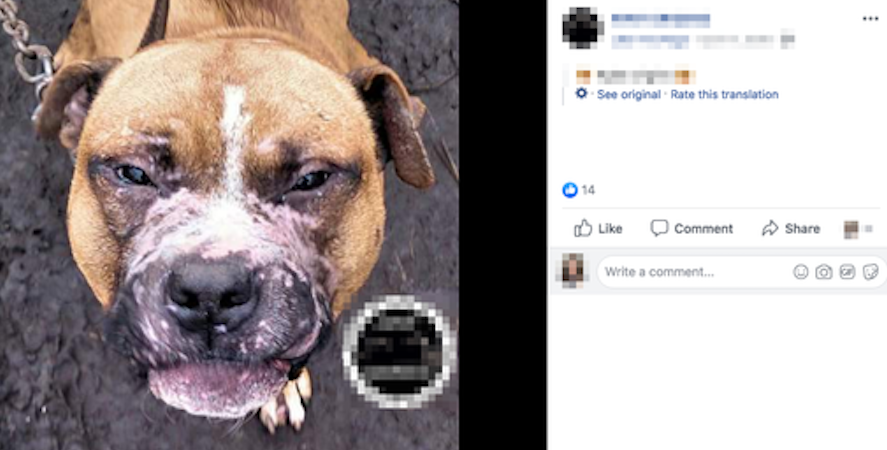 Facebook is an enormous platform used by billions of people around the world, and has the power for tremendous good — but only if such abuses are dealt with appropriately.
If nothing is done, cruel breeders will keep selling innocent puppies into dogfighting on Facebook, and dogfighters will continue to enjoy a massive platform to glorify this gruesome bloodsport, sending the message to billions of people — including impressionable children as young as 13 — that dogfighting is fun and recreational.
Help us stop animal abuse like this on Facebook.
As a global tool for communication, advocacy, news, and commerce, Facebook has a responsibility to block content that induces cruelty to animals, and ensure that users do not promote violence toward any species. Additionally, they have an obligation to reach out to local law enforcement when animal cruelty is reported, and work with government officials to protect these animals.
Sign our petition urging Facebook to proactively work on eliminating this dangerous content and stop the proliferation of the cruel and deadly dogfighting trade.
Sample Posts from Investigation: