An animal rights nonprofit that obtained drone footage of alleged animal cruelty at private rodeos in Illinois has sued one county hosting them, saying officials are ignoring the unlawful and violent acts.
Showing Animals Kindness and Respect, also known as SHARK, over a year-long period documented acts of alleged violence against animals — including whipping and beating horses and leaving bleeding steer with broken bones to suffer without care — at private rodeos in Boone County, Will County, and other areas in northern Illinois, according to news.
"They're not hiding it," SHARK Founder Steve Hindi told news. "They know our drones are up there, that our drones are looking right at them, and they will still beat the living daylights out of these animals."
So far Boone County is the only municipality in the lawsuit, although SHARK has said they are considering similar legal action against the other counties if enforcement action doesn't happen.
Boone County told Lady Freethinker that they have not yet released an official statement regarding the allegations and declined to comment on the lawsuit. Their response is due to the court by Oct. 12. 
Will County Sheriff's Office recently told news they had started an investigation.Will County Animal Control Administrator Anna Payton told Lady Freethinker that she could not comment on pending investigations but said the department coordinates with the Will County Sheriff's Office and the Will County State's Attorney's Office on any allegations of animal abuse.
She added that the State's Attorney's office recently announced charges against one individual related to animal abuse allegations at a rodeo.
"Animal abuse is not tolerated in Will County," Payton said. "Our department will continue to work with the Will County Sheriff's Office and the Will County State's Attorney's on investigating any allegations that we are made aware of."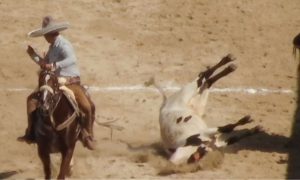 (Courtesy of SHARK)
Acts of violence documented against horses included riders allegedly "slapping a horse in the face" as well as "full power punches," Hindi said.  Steer reportedly were jabbed with electric prods and also forced to endure steer-tailing, in which mounted riders drag young bulls to the ground by the tail. The brutal event often results in the skin sheath around the animals' tails ripping off, with riders sometimes waving the skin in the air as a "sign of victory," according to SHARK.
SHARK also said the footage shows a paralyzed steer dragged across the ground by his horns, loaded into an earth mover, and dumped in a barn before being shot to death.
SHARK is being represented by UIC Assistant Law Professor Conley Wouters, who said the county allegedly is ignoring its own zoning ordinance by allowing permits for the events.
"The ordinance says you can't issue those permits if there is potential harm to animals or animal cruelty at these shows," Wouters told Fox 32 News. 
The lawsuit asks that Boone County comply with its permitting ordinances, which would effectively end the rodeo events.
SHARK reportedly has submitted copies of the footage to the Illinois Department of Agriculture. But that department told Lady Freethinker that any cruelty charges must come from local authorities.
"Criminal charges for violations of the Humane Care Act, including animal cruelty, must be investigated by local authorities and charged by local prosecutors," the department said in an emailed statement. "The Department does have regulatory oversight of animal safety in certain situations under other provisions of Illinois law, none of which are applicable here."
Bulls and horses generally are gentle animals who have to be provoked and harassed in order to perform the unnatural stunts featured in rodeos. 
The preventable suffering and death inherent in this deplorable form of "entertainment" has earned rodeos a spot on a new list of "unacceptable" events by the British Association of Travel Agents — and it's high time they become history in the United States.
If you haven't already, please speak up for animals forced to suffer in rodeos by signing our petition demanding a cancellation of a new rodeo planned for the first time in San Diego in 2024 and a ban on rodeos in Los Angeles. These animals need your voice!