I am part of a small group of dedicated animal lovers. They call us the Kingston Angels, and we try to live up to the name.
This is a story of coincidences. Or were they?
On my way to the eye clinic to pick up an elderly friend from out of town, I glimpsed a post from Adam showing a sad, copper-coloured dog, limping painfully along in front of his townhouse complex. He had never seen this dog before, but couldn't stop as he was late for a meeting.
I didn't have a lot of time either, but felt drawn to check it out, and so detoured in that direction. By then the dog had found her way into some open land across from the townhouses, and was camouflaged in the distance among a heap of dead branches. A kind security guard helped me clamber through the barbed wire to get closer and I was able to see that she was horribly scarred, probably either from boiling water (sadly very popular in Jamaica) or some corrosive chemical. She was lying down and looked up at me calmly, leaning into my hand as I rubbed her ears. I left a bowl of food and some water with her because I was now very late for my appointment, and shot off a message to the angels.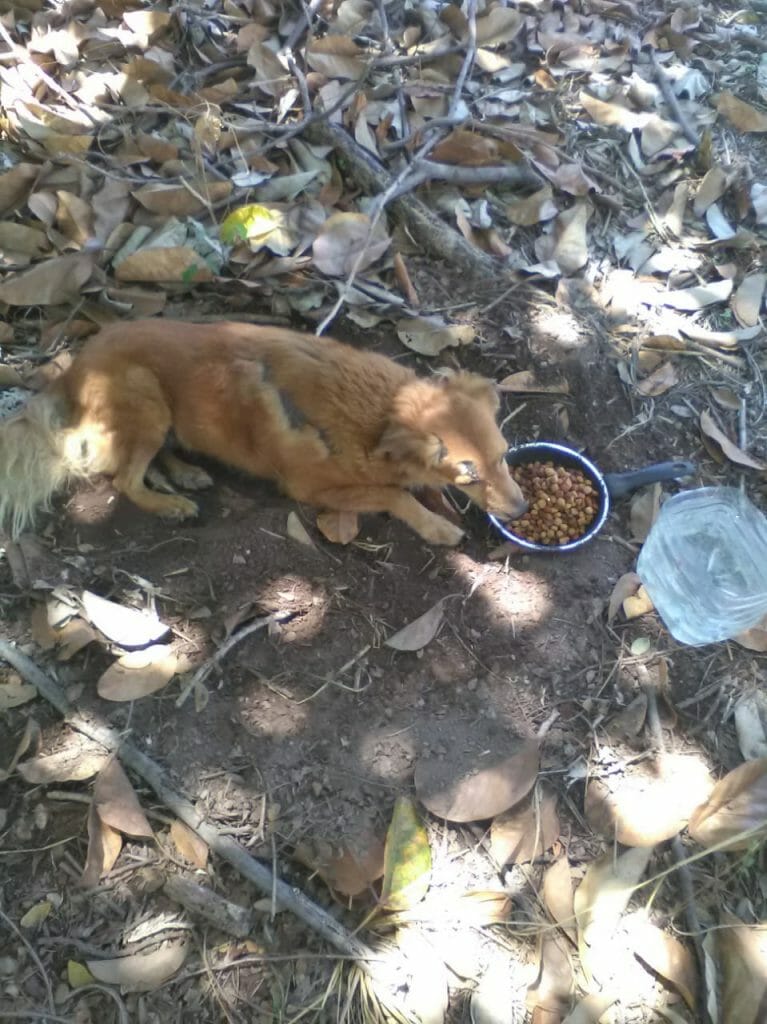 By the time I got back from the clinic I heard that Debbie D had picked her up and was with her at the vet. Debbie had been on her way to an important meeting but when she saw the post, felt she had to go get her.  
The messages were flying hard and fast, as the dog was elderly, badly matted, arthritic, and worst of all, heart-worm positive. Someone suggested it would be kinder to put her down, but there was such a flurry of messages against the idea, the phones could barely cope. She had such a sweet disposition, and accepted everything with such dignity, we just couldn't. We would figure something out.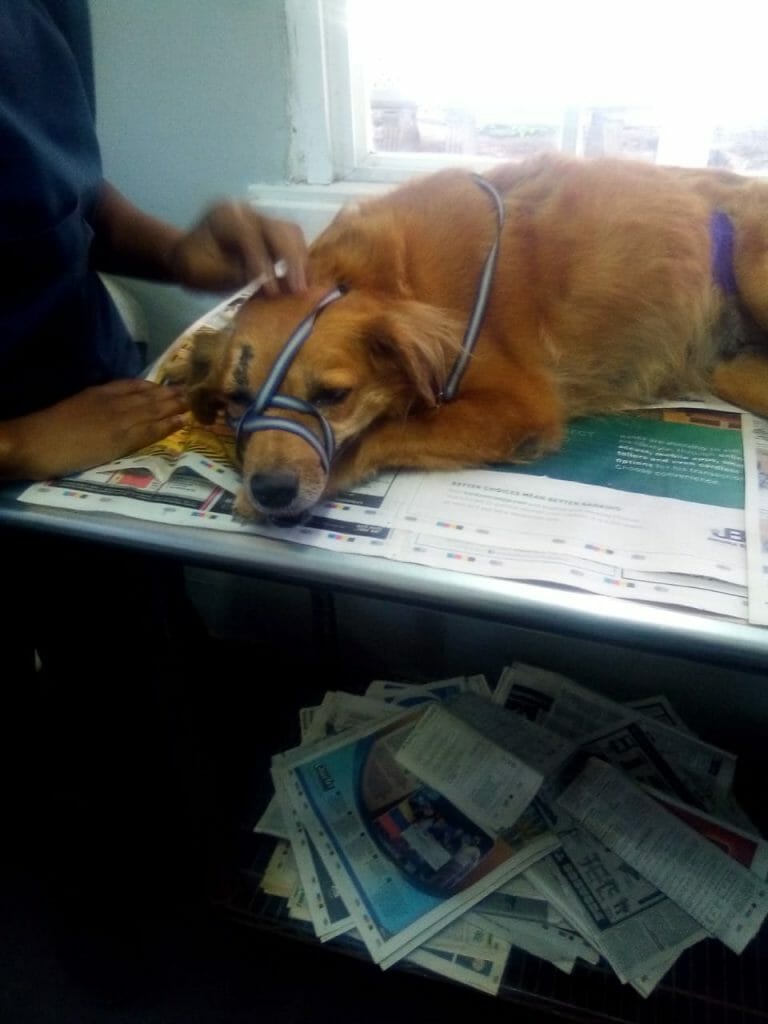 Now we desperately needed a foster. Rachel had two cats and a small dog already, and wasn't too enthusiastic, worried that the dog would poop on her rug, like her previous foster did.  But she was clearly wavering a little, and with the encouragement of the others, I managed to convince her to take the dog "just for a little while," and I would come and clean up her fur.  Debbie, waiting anxiously at the vet for a decision, jumped at the chance, and in two twos the dog was delivered to Rachel's house.  
I followed shortly after and found her and Rachel sitting on the grass at the front of the house. She had already been given a name, Lady, and she certainly acted the part. There was no sign of fear or suspicion, and as I started combing out her matted coat, she sighed and relaxed, even when I flipped her over and swung her around, and let me snip away. She was so grateful to be rid of that painfully heavy burden of nastiness, and I could swear I saw a surprised but pleased smile on her face.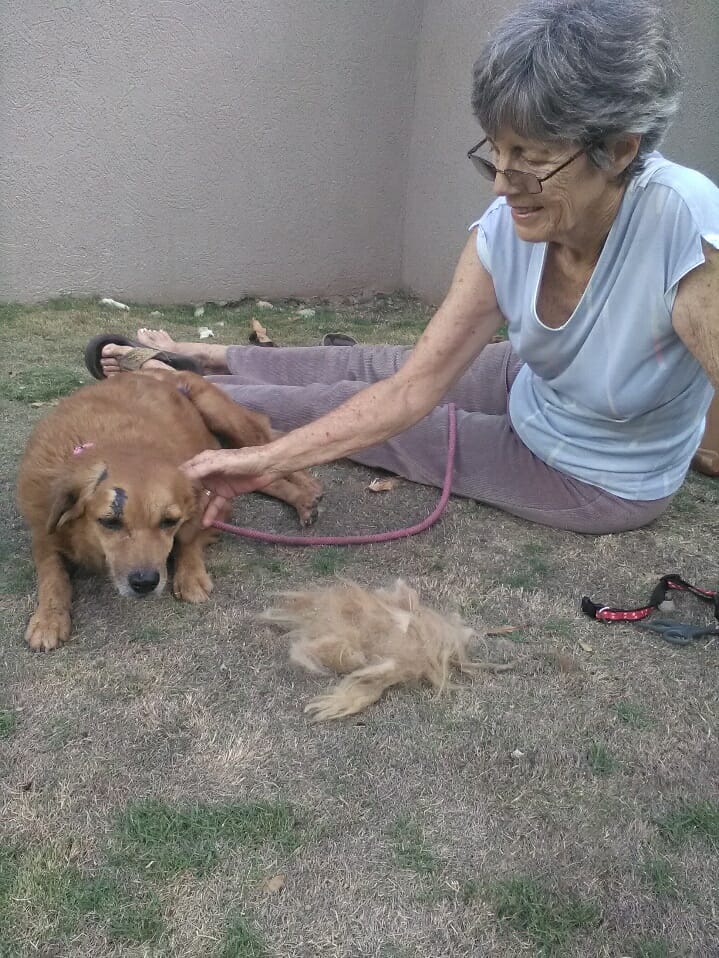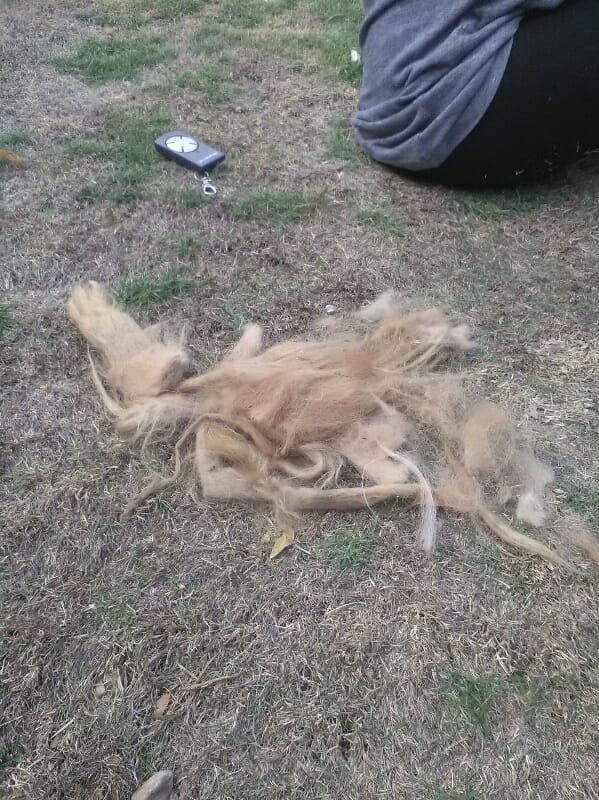 Shabba the Pomeranian came bounding out to see what was going on. The two exchanged silent greetings, and there was a lot of sniffing, but not the slightest sign of aggression. It was clear that Shabba was fascinated.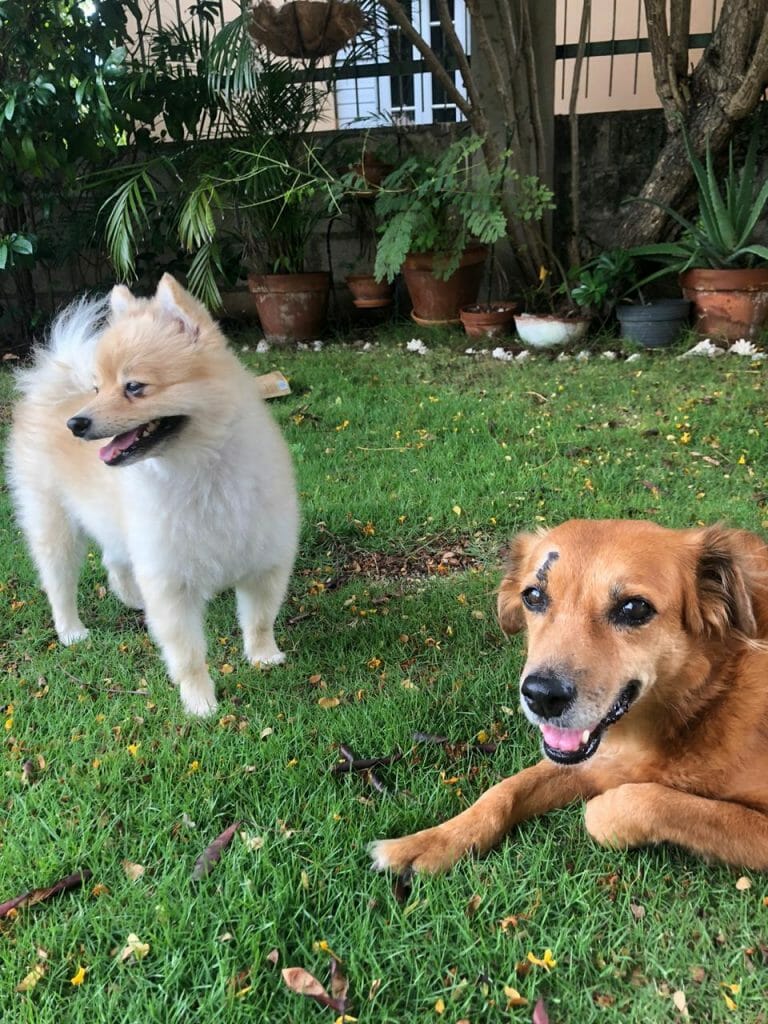 Lady also proved to be very popular with Busy and Beanie, the cats, who live inside but who were allowed to come out on the grass with her.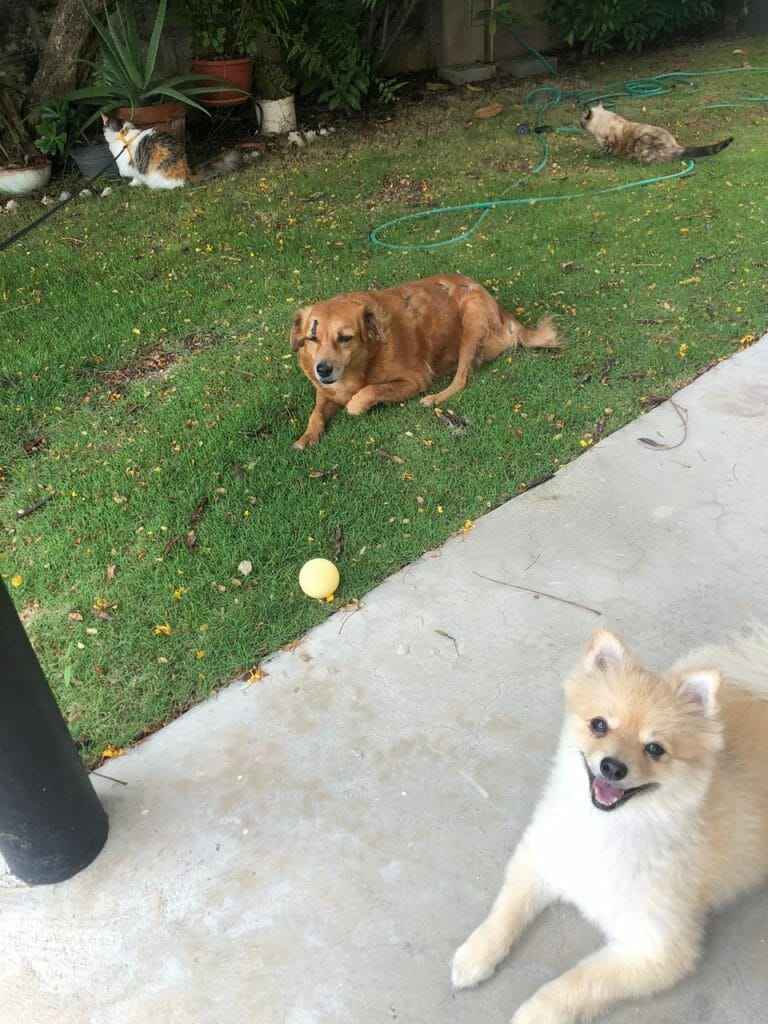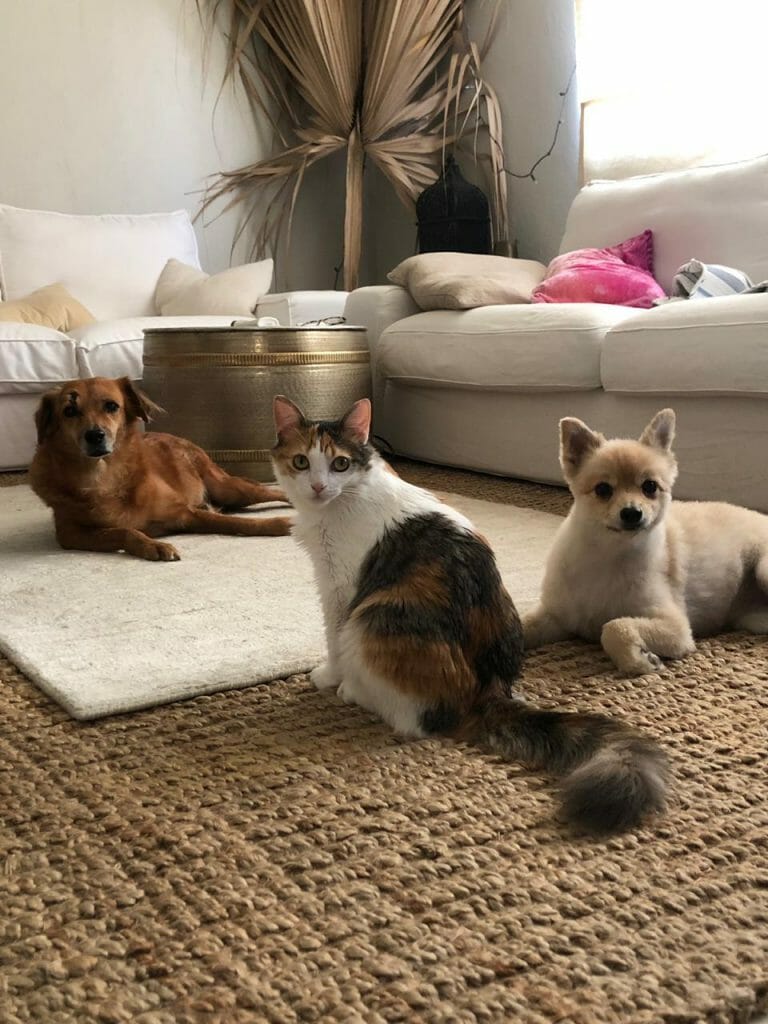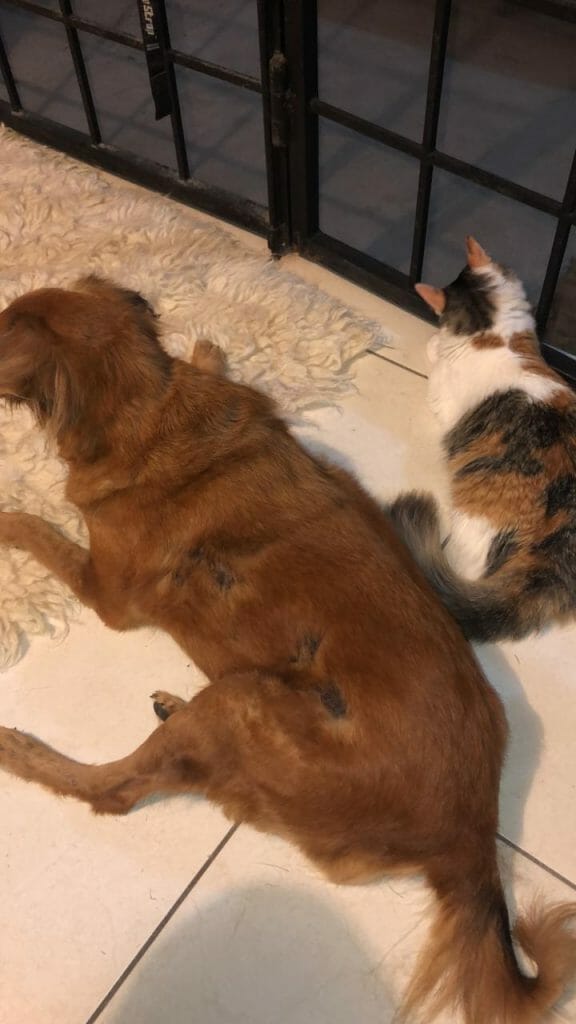 The last and most important test was, of course, going to be Daddy, who was quite oblivious to the arrival of a lady called Lady. Fortunately for everybody he promptly fell for her gentle charms just as the others had. 
But there was one more hurdle – the first night. Rachel slept in a lounge chair on the enclosed verandah with her, just in case, and was delighted when, in the wee hours, Lady gently sidled up to her and breathed into her face that she wanted to go outside. So said so done. Afterwards she came right back in, curled up and went back to sleep. 
It was a done deal. 
The next day, Lady got a bath (no doubt the first in a very long time). She made not the slightest protest, and actually seemed to like it. Clearly she had reached the point where she trusted that her new Momma would not do anything bad to her, and gave herself up to enjoying it all.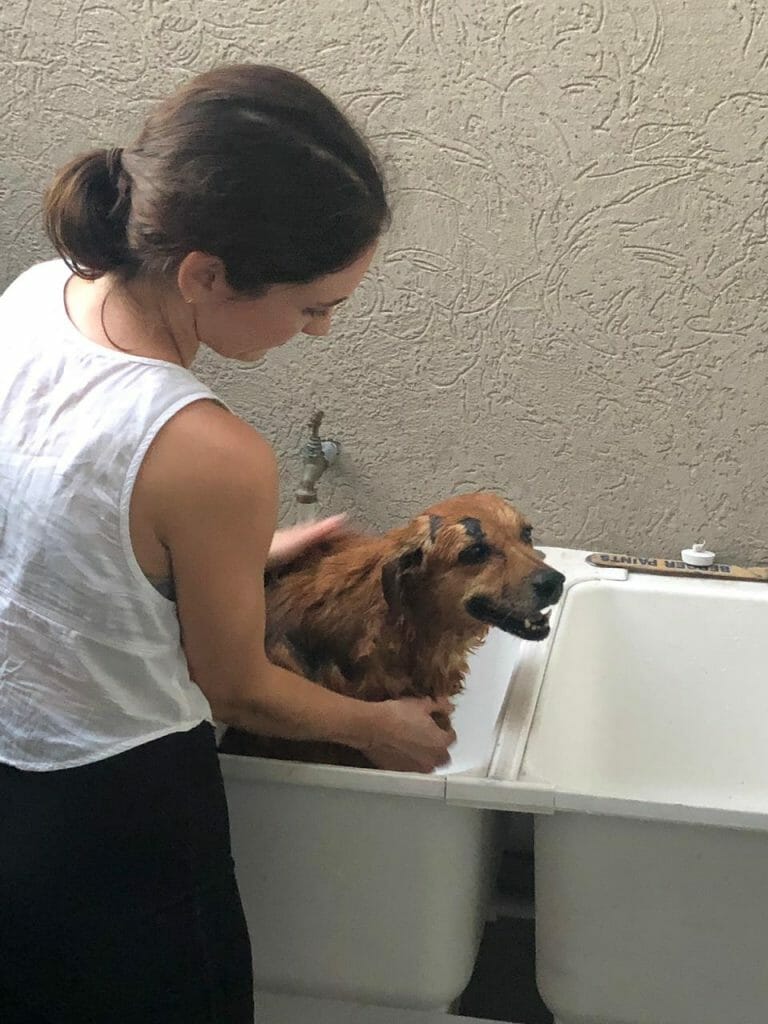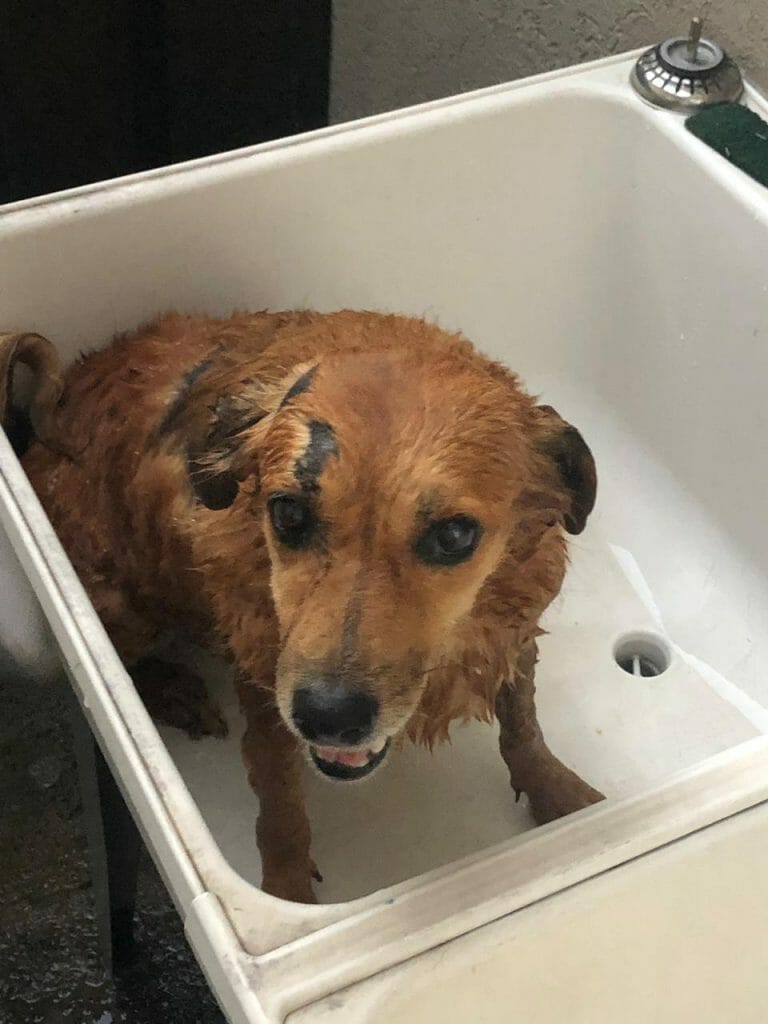 And then she really began to feel at home.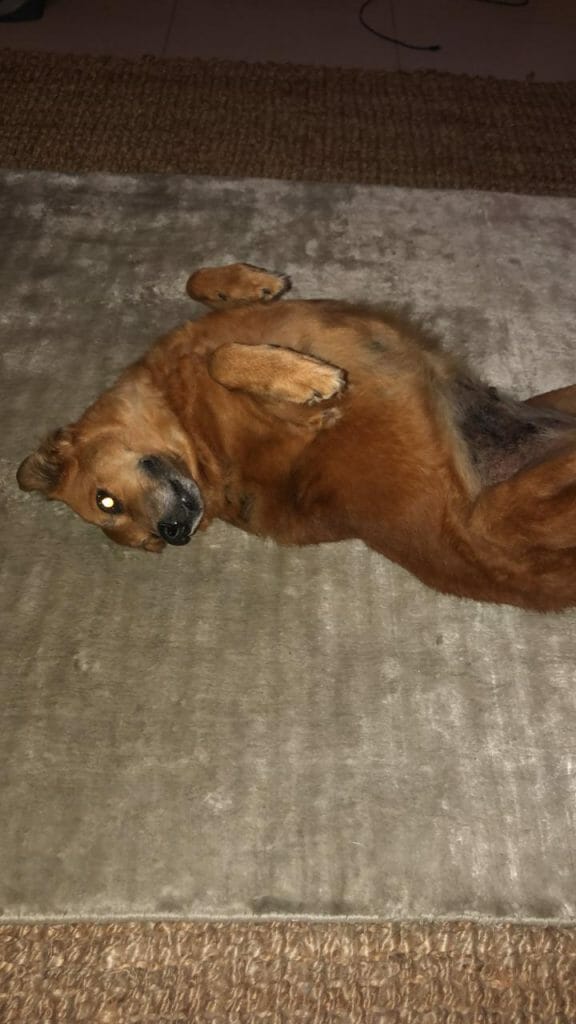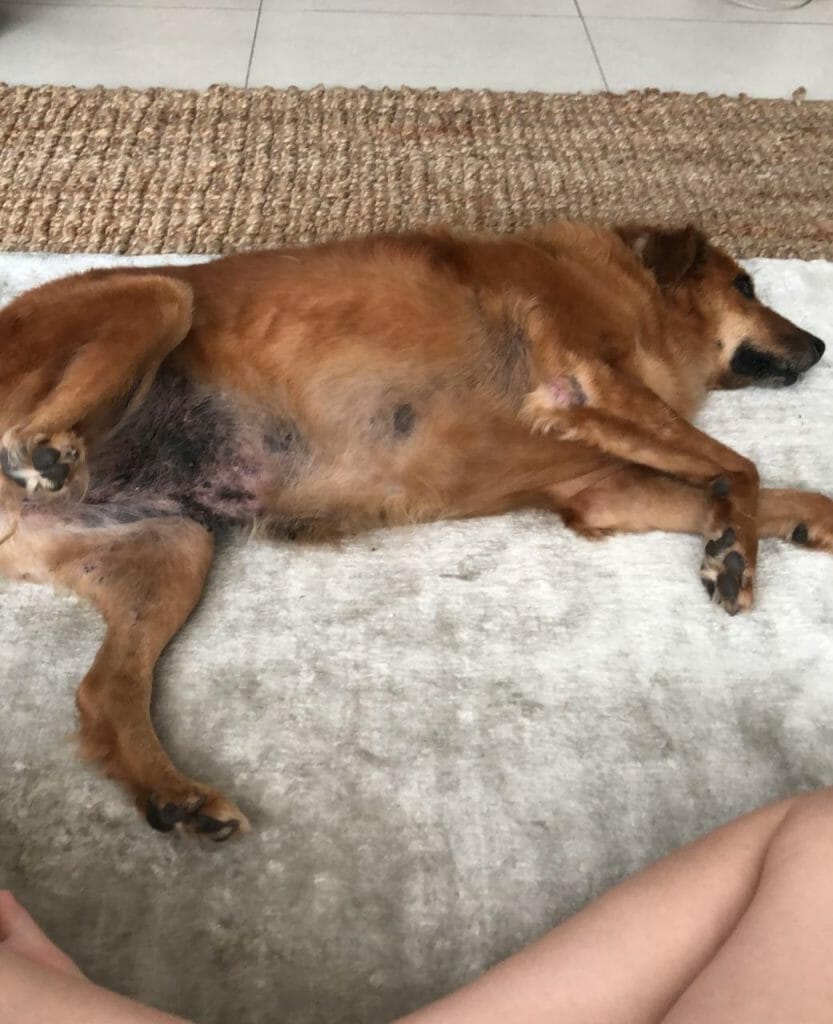 Thinking back, if Adam hadn't stopped and taken the time to send out that first picture of Lady, or if I had rushed out, not noticing it, or if Debbie had decided her meeting was too important to miss, Lady would have limped on in her silent quest for help, and we would never have known how badly she needed saving. It's enough to give you goose bumps!
Lady bears scars that show she has suffered considerable abuse, and would probably have horrendous tales to tell if she could speak. And yet she is so forgiving. She probably had a family at some point earlier in her life, because she quickly learned how to behave in the house and when to go outside, and she interacts readily with people without showing fear or being cowed. Perhaps she was abandoned, as so many are. We will never find out.
No one knows how much time she has left. For sure she's no puppy. But the light is back in her eyes, and she positively scampers around, full of the joys of spring, hardly remembering the wonky leg. You cannot help but smile watching her – it's pure happiness!
Lady, you deserve all the good things life can offer in your golden years, and now you have found the perfect family to help you enjoy them.