Across China, millions of dogs are stolen from home or shot with poison darts on the streets, packed into cramped, filthy cages and trucked to slaughterhouses to be beaten, sliced open and boiled in the cruel dog meat trade.
Brave rescuers are fighting back, and work tirelessly to save dogs from this nightmare. Many of the dogs they save must go to shelters, who desperately need help providing them what they need to be safe and happy.
With your support, Lady Freethinker (LFT) is providing much-needed food for dogs saved from the streets and slaughterhouses of China.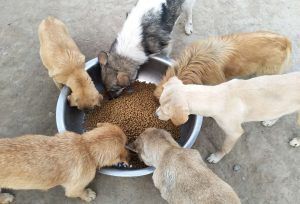 The dogs above were once destined for slaughter, but are now well-fed and loved at the Kuitun Small Animal Protection Association shelter, which LFT is helping support.
We will continue striving to provide these innocent animals the best life possible after all they've been through — but we can't do it without you.