In the searing heat of the brutal Boknal Dog Eating Days, I traveled to Gimpo, South Korea to support LFT partner Save Korean Dogs in their work rescuing dogs from slaughter, and finally see our anti-dog-meat bus ads in person.
Seeing the animals' sweet faces at the rescue shelter brought me to tears of both sorrow and hope. These gentle pups had barely escaped the butchers' noose (hanging is a common killing method there); they were so traumatized, they cowered in fear if you raised your hand. But they were still so loyal, after all they'd been through.
My husband Ben and I walked and played with the dogs — some of who had never felt grass before in their entire lives. We helped with chores around the shelter, like digging trenches and installing wallpaper in the cottage by the dog park.

And with the support of Lady Freethinker's generous donors, I presented a check to help the rescue keep saving dogs from slaughter. It felt so good to be able to help save innocent animals' lives.
Thank you to everyone who allowed us to help these precious dogs with your generous donations to LFT. We could not have done it without you.
When we left Korea, we flew four dogs back to Los Angeles with us to find forever homes as part of Project Freedom Flight, a collaboration with SKD, Willow's Wish and Dogs Without Borders.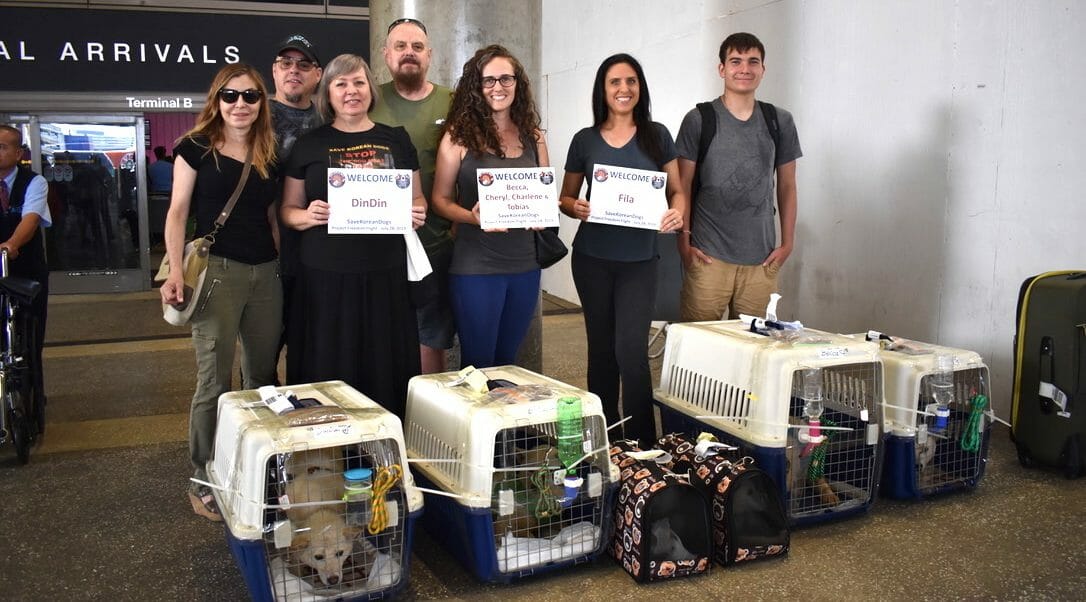 As heartbreaking as it was to know these dogs' painful history — and see with my own eyes the rusted, metal slaughterhouse cages they came from — it felt incredible to be able to help give these deserving pups another chance at life. And your support made it possible.
In the video above, you'll see an intense interview with SKD founder Nami Kim, who has rescued 3,000 dogs from slaughter and sent them for adoption in the U.S., Canada and the UK. Lady Freethinker is proud to support this important work.
More than a million dogs are slaughtered every year in South Korea, where eating boshintang, or dog meat soup, during the hottest days of the year is believed to have a "cooling effect" on the body. The butchers beat, hang and burn the dogs alive because they believe it makes the meat taste better.
But we are fighting for change.
Lady Freethinker is sponsoring bus ads urging the public to stop eating dogs. We have collected hundreds of thousands of petition signatures to shut down the cruel dog and cat meat trade worldwide, and provide much-needed aid to our on-the-ground partners in China and Korea.
We can't do it without you.
Sign our petition to urge S. Korean Ambassador Joe Yoon Je and President Moon to work to end all dog and cat meat in the S. Korea.